AFFORDABLE LUXURY GROUP NAMED AS INC. MAGAZINE'S FASTEST GROWING FASHION-BASED COMPANY

RLM Apparel Software is pleased to share great news about one of our valued clients, Affordable Luxury Group, being recently named the #55 Fastest Growing Private Company in America by Inc. Magazine.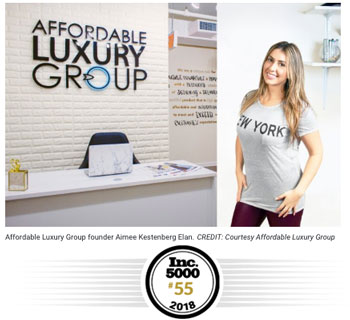 Inc. 5000 ranks companies according to the percentage growth of their annual revenue over a three-year period. Affordable Luxury Group grew its revenue by a whopping 4797% during that short period which also earns it #1 ranking in the Fashion category on Inc.'s 5000 List. Equally as impressive is Affordable Luxury Group's ranking in the Top 10 New York City based businesses to make the Inc. 5000 List.  

"We are thrilled and honored to have been officially named as one of the fastest growing private companies in America by Inc. Magazine. Inc. 5000 is something really special and never something we'd imagine to be a part of, let alone landing the #55 spot. We are especially proud that we are the #1 ranking for Fashion, something that is truly remarkable and humbling, " said ALG Founder Aimee Kestenberg.

RLM congratulates Affordable Luxury Group on this very special recognition and their amazing success.