Habitat Ramps Up Business Growth with RLM End-to-End Solution

Lyndhurst, New Jersey -- August 14, 2020-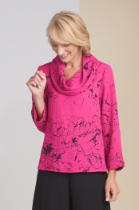 Habitat Clothes To Live In, the Boston based women's fashion brand, chooses RLM Apparel Software to increase productivity and streamline processes as their business continues to grow.

Faced with an antiquated ERP system, Habitat Clothes To Live In has turned to RLM Apparel Software's fully integrated ERP solution based on its end-to-end capabilities of handling everything from finished goods production orders to invoicing.

Habitat can now better facilitate their major trading partners via RLM's native EDI translator system. As a fully integrated component of RLM ERP, the EDI translator delivers major cost savings by eliminating the need for additional third-party EDI services and related waste and errors due to double entry.

Habitat Clothes To Live In is also benefiting from RLM Financials to help manage their business accounting. The feature-rich solution eliminates the need for double entry into a 3rd party accounting system, while providing accuracy in all aspects of their financials.


Additionally, Habitat's e-commerce is now powered by RLM's integration to their Woo Commerce on-line platform where RLM will serve as the OMS and inventory management provider to fulfill their on-line orders.


RLM has also integrated to Habitat's 3rd party warehouse where goods are automatically picked using state-of-the-art robotics. In a fast-changing environment, Habitat Clothes To Live In is now able to streamline all aspects of their business with RLM's fully integrated, cloud-based solution to manage their growing business needs.


Media Contact:
John Gubiotti
(201) 531-5959