MARGARET O'LEARY BOUTIQUES GO LIVE ON RLM FULL SUITE OF SOLUTIONS

Lyndhurst, New Jersey -- February 25, 2019 - San Francisco based knitwear and women's apparel brand, Margaret O'Leary, has successfully launched RLM Apparel Software's comprehensive set of tools and timesavers for streamlining business processes and increasing cost efficiencies.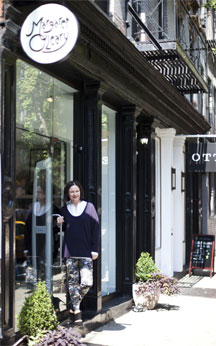 From Product Development to Sales, Inventory Management, Accounting and Warehousing, Margaret O'Leary turned to RLM Apparel Software to help drive its next phase of business growth. One of the major components of the software deployment was the bridging that was built between RLM Systems and Retail Pro. The custom integration resulted in elimination of numerous duplicate data entry workflows within the Margaret O'Leary organization, which in turn, allowed their staff to concentrate on the more productive aspects of their daily responsibilities rather than correcting and re-entering data across multiple data entry points.

Additionally, RLM's response to Margaret O'Leary's business needs provided their operations with a well-focused lens into the inventory at each of their 15 boutique locations nationwide, and O'Leary users working within Retail Pro now have visibility into the corporate warehouse location. 
"With over 40 years of experience in the fashion apparel market, RLM understands the importance of providing solutions that efficiently and effectively run business operations, said Andy Lynn, VP of Business development for RLM Apparel Software.

in addition to all the other vitals we deployed for Margaret O'Leary, RLM also developed an integration with JOOR that seamlessly generated a line sheet by transferring items from RLM to JOOR at the click of a button. As orders are placed in JOOR, they're automatically synced back into the RLM ERP systems as open orders", Lynn added.
Media Contact:
John Gubiotti
RLM Apparel Software Systems
(201) 531-5959